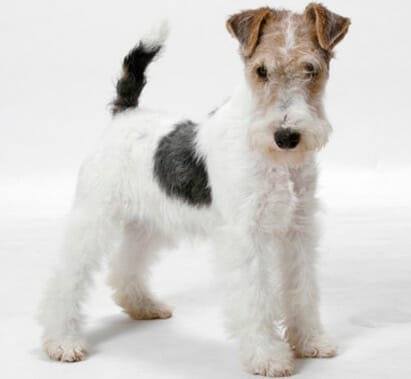 Let's face it, Wire Fox Terrier grooming can be expensive when you have to pay a groomer to hand strip their fur. The Wire Fox Terrier has a dense and wiry coat, which is predominately white in colour and streaked with brindle, red, or blue. The topcoat is twisted, broken, resembling the matting on a coconut; the undercoat is soft, fine and short.
Do Wire Fox Terriers Shed?
Technically no, however, all dogs shed at least a little hair. The Wire Fox Terrier can be classified as a dog that is a very light shedder.
They don't shed seasonally like a true shedding breed (think German Shepherd or Labrador Retriever, for example), however when they are shown, their coats are hand stripped. The coat will loosen up when it is ready for stripping. This means removing some of their undercoat.
If their coat isn't clipped and they are left to have a full coat (which can grow up to 4 inches in length) you will find some hair around the house, but typically only a fraction of what you would find from a true shedding breed.
Note
: This post contains affiliate links. When you buy something using our retail links, we may earn a small affiliate commission at no cost to you. Read more about
how this works
.
Using the FURminator for Wire Fox Terrier Grooming
The FURminator is designed to be gentle on your dog's fur. By choosing to use a FURminator you will be doing both your dog and yourself a favour, many dog's enjoy being brushed, and even those that are reluctant at first come to enjoy being brushed with the FURminator, and it is a stress-free way to keep your dog's coat healthy and shiny.
A stripped coat is more "wire-y" and the colours are more vivid, whereas, a clipped coat is softer and the colours are more muted.
The FURminator helps to remove the undercoat, which means you will still see the same vivid colours in your dog's coat as if your pet's fur was hand stripped – although it will be a lot less expensive!